Landscape Design in Norfolk, Virginia
Landscape Design & Installation Specialists
Ritter Grounds Maintenance, Inc. has built a reputation, over the past 20 years, for inspired landscape design, landscape architecture, thorough knowledge, and unsurpassed customer service; we are recognized for our unique intertwining of design, horticulture and architecture throughout the Norfolk, Virginia Beach, and Chesapeake, Virginia area.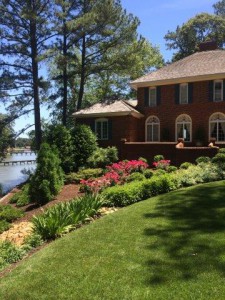 Our owner is involved in every project, from design to completion and beyond regardless of your location in Hampton Roads from our headquarters.
Any Landscape, Any Season
Our landscaping services synergize with a wide variety of clients, ranging from single-family homeowners seeking an at-home getaway and ways to improve their property's value to corporate clients hoping to make a long-lasting first impression with a new installation or a well-manicured lawn. We listen to what you want, your ideas, and provide creative concepts and affordable solutions to meet your individual needs. Regardless of your needs, we will deliver the level of attention your project deserves year-round.
Our Process
A custom landscape design is the result of collaboration between the client and the landscape architect and is a unique and rewarding experience. We'll work closely with you to tailor inspiring designs specific to your particular needs, creating a dynamic and communicative relationship that thrives over the years. You'll get to watch as the profound transformation of your outdoor space unfolds from an idea on paper to a new world in front of you.
After installing your beautiful new piece, Ritter Grounds wants to help you retain your property by providing landscaping and lawn care maintenance. To learn more about our maintenance services, please visit our lawn care services page.
Interested in our Landscape Design or Lawn Care Services?
We offer free evaluations and estimates! Click the "Request Quote" button for your free estimate.