Lawn Care Services in Norfolk, Virginia
Property Maintenance
While often minimized or pushed to the back burner, the on-going maintenance of a property not only guarantees its health and long-term appearance, but protects what could easily be a substantial investment.  Maintaining a pristine look and feel and ensuring that your lawn or property will thrive takes a well-trained staff with knowledge of plants, irrigation, landscapes, and troubleshooting as well as attention to detail.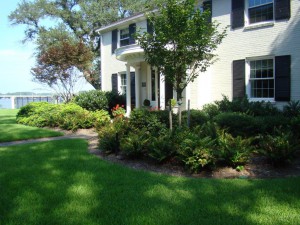 Ritter Grounds offers this and much, much more, in Norfolk, Virginia Beach, and Chesapeake, Virginia, all with the tools and equipment required for a job of any size or condition.  Our services include, but are not limited to, aeration, seeding, fertilization, weed control, pruning, mowing, edging, and debris removal.  For a full list and descriptions of our services, please see below.
Yearly contracts are available to guarantee that your land or lawn receives the best possible care and treatment it needs during the appropriate Hampton Roads season.
Services
Your lawn is unique. It has specific needs that must be met for it to thrive.
Ritter Grounds offers full-service lawn care treatments. To help your lawn reach its potential, we will first conduct a detailed lawn analysis (to determine soil/grass types, density, sun exposure, problem areas, disease, and pests). The information we collect helps us formulate a customized treatment program for your property.
Treatment programs can include anything from mowing, edging, and blowing, mulch installation or renewal, weed control, fertilization, pesticide treatment, and watering to sod repair, grass seeding, or a complete new lawn or irrigation installation or repair.
Have more than just grass? Need a personal gardener? No worries! Ritter Grounds specializes in plant and shrub care and can service your plants from the root up.
We pride ourselves on proper hand-pruning techniques to ensure natural form of the plant, maintain growth within space limitations, and to eliminate damaged or diseased sections and won't shear your plants unless it's the solution for your hedges.
We also offer early growth protection, foliage protection (from pests), root zone fertilization, mulching, bedding, and weed control based on the information gathered while surveying your property and its individual plant
Seasonal cleanup can be frustrating and debris after a storm can attribute to a messy property.
We offer seasonal cleanups to ensure your property looks good year-round. Our specialty involves cleaning flower beds of debris (leaves, sticks, weeds, etc.), removing trash, small trees, pruning, edging, and mulching (or re-mulching).
If inclement weather or storms hit and make a mess of your property, you can count on Ritter Grounds to restore it to its natural state.
Interested in our Landscape Design or Lawn Care Services?
We offer free evaluations and estimates! Click the "Request Quote" button for your free estimate.